1500kVA 34.5kV Pad-mounted Transformer
Product Description
ZGS series pad-mounted transformer is made according to the IEC standard, whose body of the transformer, HV load switch, fuses and other protection components immersed in transformer insulating oil. ZGS series pad-mounted transformer has terminal type and the ring main unit type.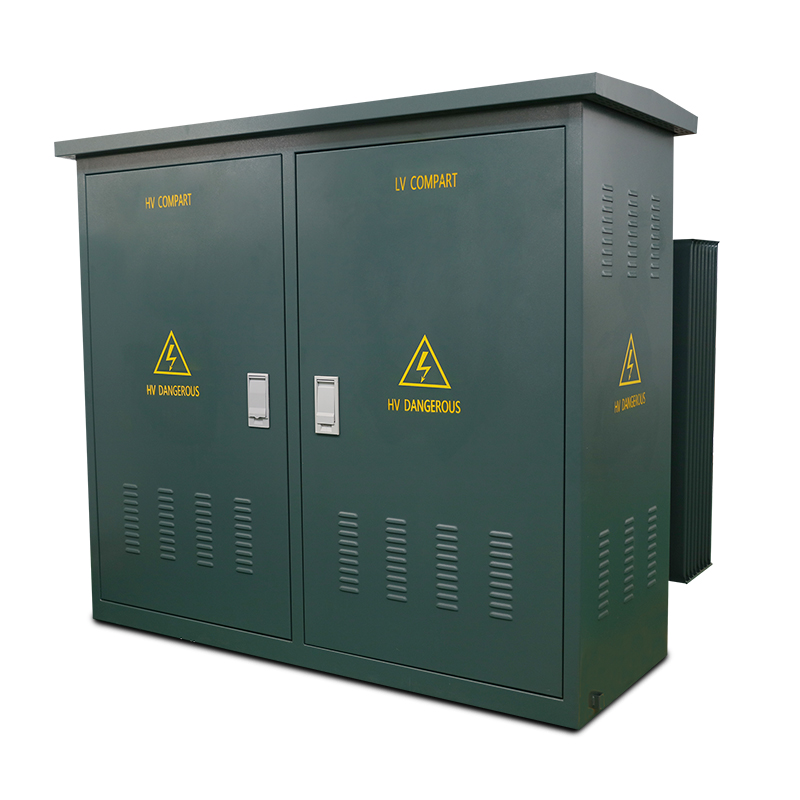 Product Features
▶ compact structure, small size, easy for installation, flexible.
▶ fully insulated, fully sealed structure, safe and reliable, maintenance- free.
▶ the high-pressure side of the dual fuse protection, plug-in fuse,the Unika fuse (temperature, current), the back of the fuse is not limiting fuses.
▶ high voltage incoming applies the line cable connector structure, fully insulated,safe, reliable, easy to operate.
▶ transformer is with low noise, low loss, strong anti-short-circuit and overload capacity.
Technical Parameter
ZGS11 Series 33kV 34.5kV 35kV Pad Mounted Transformers

Technical Parameters

Rated

Capacity

No-load

power

(W)

Load Loss
(W)

Impedance
(%)

No-load
Current
(%)

ZGS11-50

160

1200/1140

6.5

1.3

ZGS11-100

230

2010/1910

1.1

ZGS11-125

270

2370/2260

1.1

ZGS11-160

280

2820/2680

1.0

ZGS11-200

340

3320/3160

1.0

ZGS11-250

400

3950/3760

0.95

ZGS11-315

480

4750/4530

0.95

ZGS11-400

580

5740/5470

0.85

ZGS11-500

680

6910/6580

0.85

ZGS11-630

830

7860

0.65

ZGS11-750

930

8950

0.65

ZGS11-800

980

9400

0.65

ZGS11-1000

1150

11500

0.65

ZGS11-1250

1400

13900

0.55

ZGS11-2500

2360

23200

0.45

ZGS11-5000

4320

31300

7

0.45
Company Profile
Foshan Noah Electrical Co., Ltd is an enterprise of manufacturing, researching and sales, established in 2007 and located in Fenjiangbei Road No.91, Chancheng, Foshan, Guangdong, China.
Our main products are:
1. 110kV and below power transformers (including oil-immersed transformer, dry-type transformer, rectifier transformer, furnace transformer, amorphous transformer, excitation transformer, isolation transformer, etc.);
2. Complete equipments: high and low voltage whole set switchgear; Box-type substation(including Compact Substation, Pad-mounted transformer, Wind power box transformer, PV box transformer, etc.);
3. Electronic transformers(including high-frequency transformer, mid-frequency transformer, high-frequency inductor, etc.);
4. Power quality products(including APF, SVG and SPC);
5. Special power supply (including for vacuum coating: magnetron sputtering DC power supply, magnetron sputtering intermediate frequency power supply, magnetron sputtering bias power supply; high-power bidirectional controllable DC power supply; high-power programmable DC power supply, high voltage DC power supply, special non-standard DC power supply; SPS plasma sintering power supply; plasma nitriding surface treatment power supply; high-power electroplating power supply; high-power oxidation power, high-power electrolytic power, etc.)
Our R & D department has more than 40 doctors, masters, and bachelor degree or above technical members. And our Export Department consists of six professional sales with rich experience in foreign trade. Driven to provide clients with good-quality products and technical support, we offer thoughtful and rapid pre-sales and after-sales one-package services.
Company name: FOSHAN NOAH ELECTRICAL CO., LTD
Attn: Emily Liang
Mobile:+86 18988528466
Email: liangxiaoni@fsnydq.com